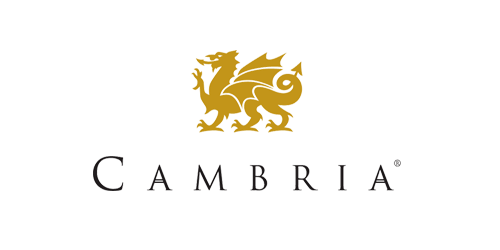 Cambria slabs are made from natural quartz, which is one of the hardest minerals in the world.
Cambria offers a large selection of innovative designs comparable to the look of natural stone. In addition to kitchen countertops and bathroom vanities, Cambria quartz can also be used for many other applications. These include: flooring, fireplaces, wet bars, and showers.
Furthermore, the benefits of the product include strength and durability, scratch-resistance, and a limited lifetime warranty. In addition, the slabs are nonporous and maintenance-free. Therefore, it does not need to be sealed and can be cleaned with a soft cloth, mild soap, and warm water. Established in 2000, Cambria is a family-owned, American-made producer of quartz surfaces. This product is double checked at every stage of production to ensure the highest quality.
While Cambria quartz is maintenance-free, all natural stone surfaces can be damaged by sudden and excessive heat. Therefore, we recommend that the customer use trivets or hot pads to protect the surface. In contrast, Cambria is not susceptible to stains scratches, or chipping. These surfaces are nonporous and nonabsorbent, so they won't retain moisture or bacteria.
Especially relevant, Elements Room is one of the only showrooms in Los Angeles where full-size Cambria slabs are displayed. Visit us to experience our personalized service and view a large selection of designs, including the matte collection.
Interested in talking
about your design ideas?
Cambria
We are defined by our values, animated by our passion, committed to sustainability, and focused on our customers. Cambria is American made and family owned. Our products are made of the finest quartz. They are distinctively durable, nonabsorbent, and easy to maintain. We back them with robust service and support and a transferable Full Lifetime Warranty.